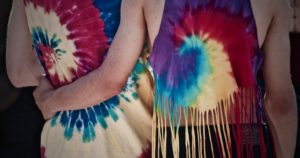 Safe Summer Projects – Shirts to Make with Your Kids!
Many of us are looking for fun, fresh activities to do with our kids this summer. Rubber Stamp Station can help! Making personalized t-shirts with your kids is a great craft project with endless design opportunities. Find some awesome ideas below!
Get Started on Your Unique Look
There are several ways to make personalized t-shirts (and your kids' shirts) that are both safe and fun. So grab a plain t-shirt and let's get started!
Tie-dye. Tie-dye is an age-old activity that's been around for decades. That's the best part – it never goes out of style. Tie-dye methods have developed greatly since the late twentieth century. You can buy safe, nontoxic tie-dye kits at most craft and multi-purpose stores.
Permanent Stamps. Like a tattoo for your clothes, clothing stamps let you stamp fun designs on your shirts that won't disappear in the wash. You can upload your own design or you can pick from our vast collection on our website. Stamp on your shirt with our permanent nontoxic, environmentally friendly ink. It won't come out in the wash and your design will be perfect every time. Whether you want to stamp your clothes with flowers, butterflies, sports icons, or just your name, stamps add a lovely personalized touch to your clothes!
Cut-and-tie. Another longstanding DIY fashion statement is to cut-and-tie. It's easy. Cut small strips on the edge of the fabric and tie them together for an awesome fringe. Here is a great tutorial!
Fabric paint is another product found at most craft stores. It's great for making personalized t-shirts that support a team or group as you can use it to write or create a fun design.
Make Your Summer Style Your Own
Making your own personalized t-shirts is not only a fun project to do with your kids, but lets you make your summer style uniquely personal. The best part is, no matter where you go, nobody will have the same shirt as you! Add a personal touch with tie-dye, paint, and Rubber Stamp Station's clothing marker stamps. Clothing marker stamps are also a great way to add identifying information on your kids' clothes. A phone number or address will ensure the shirt they worked hard on will always be returned even if it gets lost. For more information on clothing marker stamps, call Rubber Stamp Station at 1 (850) 7STAMPS. Want your shirts to be personalized but don't trust your crafting skills? No problem! Check out our online apparel store. We're here to ensure your summer style is uniquely you.
Safe Summer Projects – Shirts to Make with Your Kids! Many of us are looking for fun, fresh activities to do with our ki...
Read More »