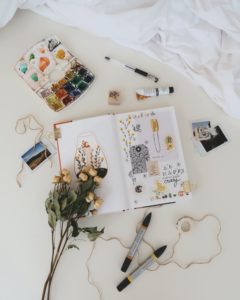 Scrapbooking the 2010s with Rubber Stamp Station
Now that 2020 is here, it's time to take a look back at the last decade. If you're an avid scrapbooker, you probably received some fun tools for the holidays! If you're a new scrapbooker looking to start your collection, now is a perfect time. No matter what level scrapbooker you are, you can find the best scrapbooking stamps at Rubber Stamp Station!
Trodat Stamps and Your Scrapbooks
At Rubber Stamp Station, we value quality and affordability in our rubber stamps, so we are happy to feature Trodat as our number one stamp brand. Trodat stamps really are everything you need in a stamp in one handy tool! Here are a few that can bring your scrapbooking to the next level!
Trodat 5030 Dater Stamp – This date stamp is perfect for any scrapbooker. It offers a minimum of ten years' worth of dates, which is perfect for scrapbooking the past decade. Stamp your memorable dates right on the page so you can place your memories on the timeline of your life.
Trodat 4914 Printy Self-Inking Stamp – The Trodat 4914 is great for seasonal stamps. It's perfect for taking on-the-go or leaving at home with the craft supplies, so you can use it whenever you need it! You can browse our logo catalogue or upload your own design to customize your stamps and scrapbooking pages!
Trodat 4921 Printy – This self-inking stamp is great for stamping text. You can choose a font, an ink color, and then stamp away on your scrapbook! Text stamps are awesome for adding a little flourish of personality to every page.
Why Trodat and Rubber Stamp Station Makes Scrapbooking Easy
Scrapbooking is made simple and affordable with our Trodat stamps and stamp customizer tool. At Rubber Stamp Station, our customizer tool is easy-to-use and will help you create the perfect stamp for your scrapbooks. Upload your own design or choose from hundreds of designs in our online gallery. Type in your desired text, choose the shape of the stamp, the size, and a font, and then pick from a variety of ink colors. We also offer replacement ink pads, so you can stamp for years to come. Try out our online customizer tool now to begin scrapbooking today or call us at 1-850-7STAMPS to get started. Happy scrapbooking!
Scrapbooking the 2010s with Rubber Stamp Station Now that 2020 is here, it's time to take a look back at t...
Read More »