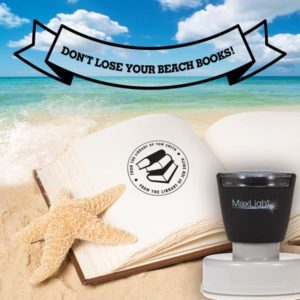 Summer is for Stamping
Summer is finally here! Whatever your plans are for the summer, we know you have creative projects you're interested in working on and completing. If you're looking for the easiest way to create custom summer stamps, Rubber Stamp Station can help!
How to Create Custom Summer Stamps – 4 Simple Steps
Our custom stamp designer tool makes creating stamps a breeze in four simple steps:
First, open up the designer tool and choose a template. Choose between a text stamp or a date stamp, round or rectangular. Your shape will depend on what the design is, from an address to your email or a fun picture! If you already have your design in mind, you can choose "create your own" as an option.
Next is the best part. If you have a design in mind, upload it! If not, we have a vast logo library that allows you to create custom summer stamps just the way you like them. Choose a logo/design, then pick from several color options. Here is where you can also add custom text and play around with the placement of your stamp elements. There is also a handy zoom tool that will allow you to look in closer at the design, or pull back for a distant view.
After you've got your design worked out, it's time to choose a stamp. We'll give you our recommendations based on the design. We offer many sizes and different stamping options. Check out our catalog for all your options or go with our recommendation! Either way, it's up to you!
Finally, get that stamp! Add it to your shopping basket and click continue to head to the cart, or keep shopping if you want to create even more custom summer stamps. We'll make sure you get your custom stamps as soon as possible.
Rubber Stamp Station and Custom Stamps
At Rubber Stamp Station, we believe the best thing about stamps is that they can be whatever you want. Whether your custom stamps are for business or pleasure, they should reflect who you are and your creative vision. That's why we made sure our custom stamp designer was accessible and easy to use. Create custom summer stamps today with our designer or view our catalog for more ideas!
Summer is for Stamping Summer is finally here! Whatever your plans are for the summer, we know you have creative project...
Read More »