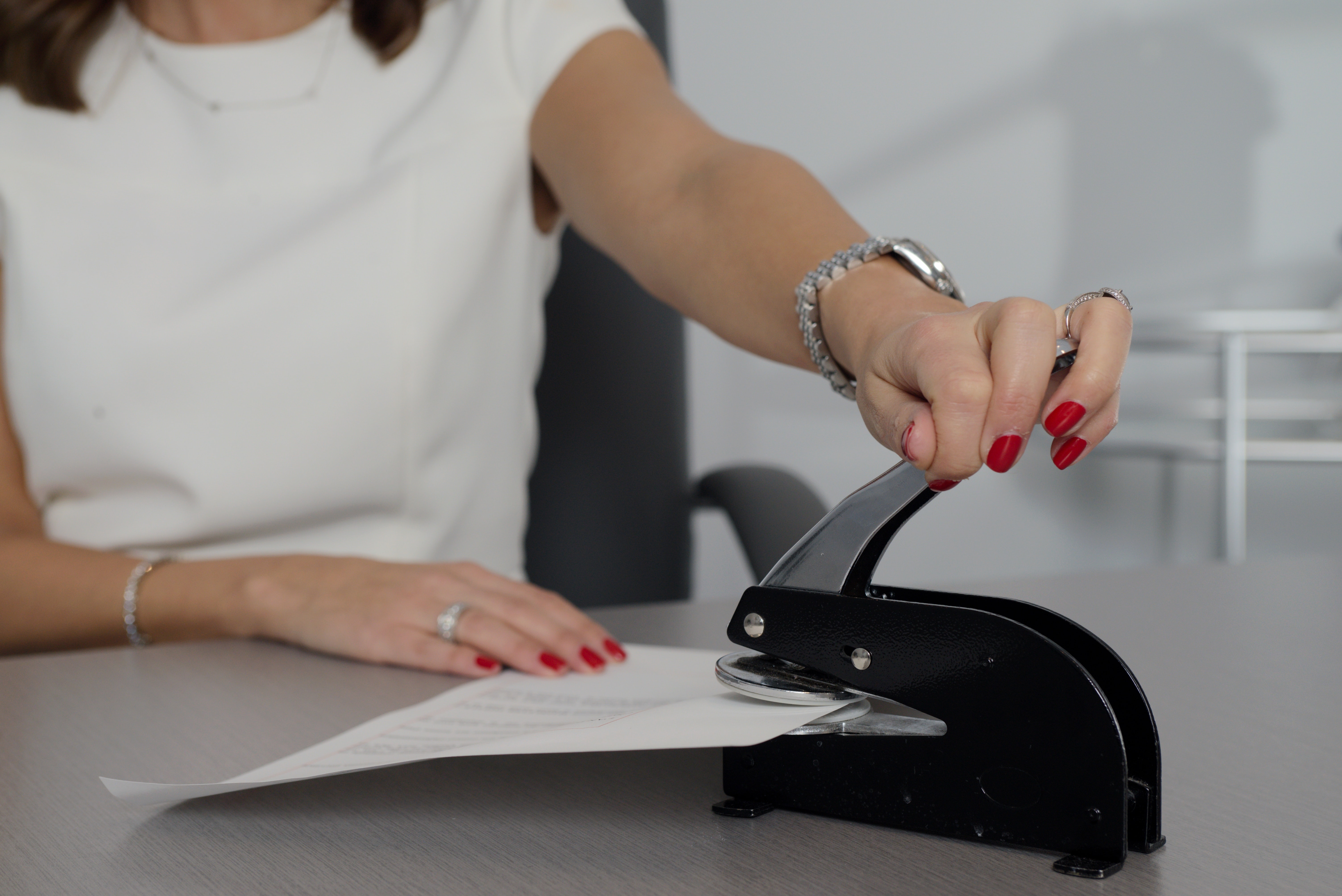 Notarize the Right Way
Whether a business has employed you as a notary or you've become a notary for individual reasons, it's important to know all the rules and regulations! Knowing the rules and keeping track of your notary supplies prevents fraud and other illegal forgery. There's a lot to remember depending on which state you're registered in, but Rubber Stamp Station has some important tips for state notaries. These will help you stay on track and prevent fraud.
5 Tips for State Notaries
Each state has its own specific notary laws and regulations, but these are good tips for a notary in any state:
If a business employs you as a notary, you have the right to keep your own notary stamp or embosser on your person and at your desk, even if your employer purchased it. If your employer tries to store it in their own office, you can dispute it.
Always keep your notary products locked in a safe, cabinet, or desk drawer when not in use to prevent them from being stolen or misplaced.
Report missing or lost notary products to the state notary authority right away. It's crucial to do this quickly to prevent any unauthorized individual from using the product for fraudulent purposes.
You should always destroy or deface old notary products when you're no longer using them. This is important whether your products have expired, your name has changed, or any other relevant reason
It's important to remember that not every state has the same rules for what must appear on notary stamps. Consult the state notary laws to find out what information is required. Also double check what product(s) you need to use. You may need a notary ink stamp, an embossing seal, or some combination of products. These rules and regulations are liable to change, so make sure you're up-to-date with all guidelines.
Notary Products from Rubber Stamp Station
Whether you're a new notary starting out or an experienced notary in need of some new supplies, Rubber Stamp Station has everything you need to be a successful notary! Check out our notary stamps and notary embossers. We offer approved layouts for all 50 states. You can also check out refill ink for our notary stamps! For more information on notary supplies, call us at 1(850) 7STAMPS.
Notarize the Right Way Whether a business has employed you as a notary or you've become a notary for individual reasons,...
Read More »