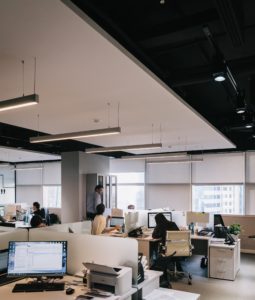 Revamp Your Business with New Tools from Rubber Stamp Station
A new year is always a good time for resolutions and starting fresh. A new look doesn't have to stop with just you or your home, though. Your office and business could probably use some sprucing up, too! And the office supplies that's cluttering your desk? So last decade. It's time to stock up on the new and improved office gadgets. Rubber Stamp Station can help! Here are just a few small ways to update your office that can make a huge difference.
Time is Money – Make the most of it with a stamp
If your office is in the habit of sending good old-fashioned mail, then you know how time consuming it can be to handwrite every envelope. That's why Rubber Stamp Station has the highest quality return address stamp for your business. It's lightweight, clean, crisp, and ECO-friendly. Make the most of your valuable time and never get a hand cramp from copying your address down on envelope after envelope ever again.
All Your Notary Supplies in One Place
A notary is a valuable person to have in your office, so show them you care by giving them the best tools for the job. At Rubber Stamp Station, we can accommodate notaries from all fifty states!
Notary Stamp – Our notary stamps meet all state guidelines and, for states that allow it, come in multiple shapes and sizes!
Notary Embosser – Our notary embossers, similar to our notary stamps, are available for notaries in all fifty states. They're the perfect size for keeping on your desk or carrying on-the-go for all your mobile notary needs.
Nameplates Galore!
Nameplates are one of the easiest ways to let people know you mean business! They're official, professional, and, most importantly, personal. Our nameplates come in a variety of sizes and are perfect for hanging on your office door or cubicle wall, or you can keep them on the desk with a sturdy stand. Everyone in the office will want one!
The Team that Dresses Together Works Together
Show your appreciation for your team and promote your business with new shirts! Rubber Stamp Station offers a vast collection of clothing and wearable gear, all customizable with your company name or logo. It's perfect for company events or that company-wide softball league you've been meaning to start!
It's a New Decade – Start it off on the right foot
The 2020s are time for a fresh start, but why limit it to your personal life? Let Rubber Stamp Station set the tone for the decade with new supplies and gear for your office. Browse our catalogue for all your professional needs, or call us at 1-850-7STAMPS to speak with us!
Revamp Your Business with New Tools from Rubber Stamp Station A new year is always a good time for resolut...
Read More »